Travelling around Australia is easy, comfortable and a highly recommended experience, but doing a roadtrip? Even more recommended, the roads are of great quality, everything is designed for those who are travelling and/or sleeping in the car and you will meet many other travellers like you.
Here is an idea of a 10-day roadtrip from Sydney to Byron Bay, if you have more time we will also recommend other places to stop. Start planning, saving and dreaming about this incredible experience along with one of Australia's most beautiful coasts.
Before you go
Australians tend to be very planned people, so if you are travelling in high season or on long weekends you may have problems finding available accommodation, so plan well, look for options and always have a plan B in mind.
You can travel and sleep in a tent, sleep in your car if you can, rent a van or go renting cabins, this option is certainly the least economical, but it all depends on your taste. There are many companies that have caravans and vans for rent, check out Campervan Finder. We also recommend you to check Car Next door and Camplify where you can find cheaper options and directly with their owners.
We also recommend you download Wikicamps, a free app that will show you all the camping options, rest areas and paid and free places where you can sleep. You can also download the National Parks and Widlife services app, where you will find information about each park and its services. You can also download Live Traffic, an app where you can see real-time traffic conditions within the state of New South Wales.
If you're travelling in your own car it's important to check that everything is in order before you start, oil, air in the tyres, car papers are up to date and that you have a valid driver's licence. Also keep in mind that it is important to be responsible with your driving, respect the speed limit and all traffic laws.
Stop 1 – Sydney to Newcastle
If you live in Sydney you've probably already been around the area, however, we recommend that you start the first day of your trip at least a couple of hours ahead, it's the best way to get a jump start. One option is to stop in Newcastle (don't miss Newcastle beach, Merewether Beach and the memorial Walk), Mungo Brush or just sleep in one of the rest areas around there. The idea is to spend the night and then wake up to continue your journey.
Keep in mind that you have the option to always go along the main road, or A1 or the possibility of looking for inland roads that allow you to see other beaches, parks or towns, it all depends on how fast you want to get to the next destination.
Stop 2 – Newcastle to Crescent Head
We recommend you take the coastal roads and check out some of the beaches and towns such as North Haven, Boony Hill and Port Macquarie, all of which are truly amazing. After about a 3 hour drive or 4 hours if you're making stops, you'll arrive in Crescent Head. There you have a lot of accommodation options and different campgrounds or holiday parks to sleep in. We recommend that you visit the town, the main beach of Crescent Head and all the surrounding beaches, a must see is Point Plomer, there is a campsite right there on the edge of the sea and a walk on the point that will delight you with its views.
Make the most of these days to enjoy amazing beaches, surfing, standup paddle boarding, hiking and relaxing.
Stop 3 – Crescent Head to Byron Bay
After three nights in Crescent Head, or as many nights as you can depending on your time, but hopefully, at least two, continue the journey to Byron Bay. On this route you have less choice of inland roads, we drove along the A1 to Ballina. We visited Ballina and Lenox Head, highly recommended! Two amazing towns surrounded by great beaches and about 30 minutes from Byron.
Where to sleep will depend on your taste and budget, there are options in Byron itself or further out, prices for campsites are a little higher than normal, but you can find good options. Consider a 20 minute range around Byron Bay for sleeping, if you're in a car it's easy to get around and you'll be able to enjoy quieter accommodation close to great beaches.
Some must-visits are the Lighthouse, Wategos Beach, Tallow Beach, Broken Head, downtown, Jonson Street (where you might find a musician or two playing) and a good meal at one of the many restaurants. If you feel like exploring further afield, we highly recommend you check out Cabaritas and the coastline all the way to Byron Bay. How long to stay in Byron Bay? That will depend on your availability, we recommend a minimum of 3 days to get to know and feel the vibe of the place, if you can stay longer, make the most of it! there is a lot to do.
Stop 4 (return) – Byron Bay to South west Coast
The return journey begins, but it's not too bad because there are still several stops and many days to enjoy! We recommend leaving Byron on the A1 towards Coffs Harbour, we recommend that you pass through this city and its coast, if you like more active places this is an incredible option to spend a night as well.
Then you can continue on to Nambuca Head, another great place to stay or just wander around for the day. Next stop is the South West Coast, a perfect mix of countryside, beaches, kangaroos and history. We recommend sleeping at the Trial Goal Bay campground, where you have two wonderful beaches to explore and where you can practice all kinds of water sports, depending on the sea conditions. Walk around the area, go up to see the ruins, take advantage of some of the walks in the area and enjoy the kangaroos. You can stay from one day to as many as you have available, it is a little known area but it will dazzle you.
Stop 5 – South west Coast to Seal Rocks
Back on the road again, take A1 to the exit for Forester, get to know this wonderful city and some of its amazing beaches such as One Mile Beach or Burgess Beach and others. Take the opportunity to do some shopping in the supermarket as you will find all the options.
Then you can stay in the Booti Booti National Park, Blueys Beach or Seal Rocks, all of them are incredible, there are different options of campgrounds, holiday parks, cabins or houses to rent. Between them it's about 30 minutes and there are plenty of beaches to enjoy. This area also has two large lakes where you can kayak, stand up paddle or enjoy an incredible sunset.
Some beaches to visit are Elizabeth Beach, Shelly Beach, Boomerang Beach, Cellito Beach, Number One Beach and Treachery, also make the hike to the Seal Rocks lighthouse where you can have incredible views of the area.
Stop 6 – Seal Rocks to Sydney
The last leg of the journey begins, although obviously this will depend on how many days you have available, if you want to continue exploring, we recommend a visit to Mungo Brush National Park, where you can enjoy amazing beaches and a large lake where you can fish or do water sports.
You can also stop for a few days in Port Stephens, there is so much to see! Ana bay, Nelson Bay, Tomaree Head Walk, Fingal Beach and the stunning sand dunes in the area. The coast from Newcastle and the whole of the Central Coast also offer many options for day trips or overnight stays, don't miss Munmorah Conservation Area, Norah Head, The Entrance and Bouddi National Park, where you can take a walk along the beaches.
We hope this guide will help you plan your roadtrip to Byron Bay, there are certainly many other incredible places to visit, we recommend you to always keep an eye on the map, try the inland roads, walk along beaches or villages and enjoy the nature of this wonderful country.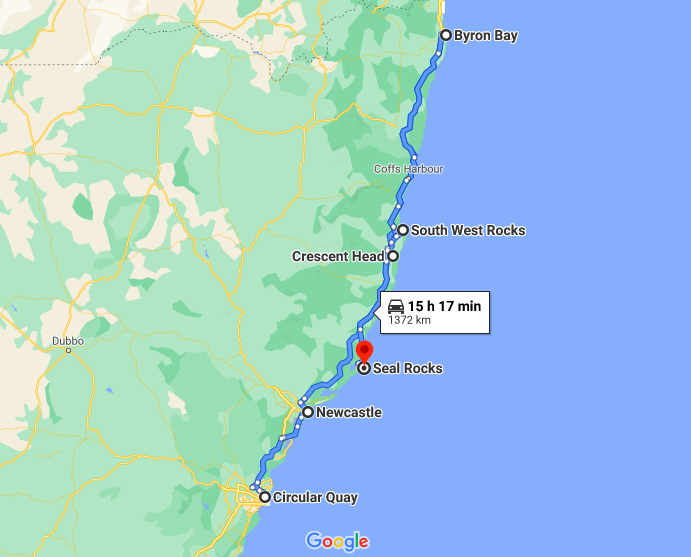 If you have any doubts or you want to provide more information write to us here or to our email info@puravidastudy.com.au, remember that we are a research agency and our services and advice are completely free of charge.