Are you planning to visit Australia and work with a Working Holiday or Student Visa? Read this article to the end and find out which are the top-Hospitality-jobs in Australia that backpackers and students are welcome to work at.
First of all, I consider it important to make a job classification according to the responsibilities and duties involved. You could find expressions in job search websites such as "Front of House" instead of Waitress for example or "Back of House" instead of dish-washer. Let me explain it here:
Front of House (FOH)
If you find a job advertised that says Front of House or FOH means that you are going to work directly with customers, dealing face to face with them as part of your responsibilities. One of the main skills you should have or be willing to develop for a Front of House position is to be a people-person. You should keep in mind that people go to a restaurant, a bar or on holidays to have a good time with friends, family or just by themselves. That is why they expect the venue-staff to be part of that experience, you have to be charismatic, welcoming and make them feel happy. Just picture yourself going out for dinner or going to a hotel for a few days, I am pretty sure you go there to have fun, so my suggestion if you want to work in this area of the Hospitality industry, is to always try to put yourself in the customer's shoes.
Back of House (BOH)
The Back of House person works in the areas that are important for the business but where only staff is allowed to be. It refers to internal services or areas, which are not directly in contact with customers. An example of Back of House positions are kitchen-hands and dish-washers, very important roles for a restaurant but that are not related directly with consumers. The important skills you should have to work on this field are to be able to work in a fast-paced environment, to work unsupervised and to be able to multitask.
Now that you are aware of the main classification, let's move on to the job positions you can find in Australia with your Working Holiday Visa or Student Visa:
Barista (FOH)
Australians really love coffee and they have high standards regarding this delicious beverage. You don't need to take a barista course to work in a coffee-house but if you have previous knowledge or you are a coffee lover, it's a plus. If you don't have experience or knowledge, don't worry! There are many employers willing to teach you, especially in remote areas where they constantly need staff.
Waitress / Waiter (FOH)
Waitressing is one of the top-one-backpacker-jobs in Australia. For employers, it is not often very important that you have experience but that you are reliable, fast-learner and charismatic. Like I said before, you are an important part of the customer's experience so a smile and being out-going is a very good start.
Although it is a fast-paced environment, usually the restaurant staff works as a team so you have a back-up if you feel a bit lost on the first days.
Bar attendant (FOH)
If you decide to work as a bar attendant there are a few things you should consider: Firstly, Australians have so many different ways to call beer you probably wouldn't believe it. Their slang is amazingly wide. For example, a beer might be called a coldie, a frosty, a stubby, a bevvie (short way to say "beverage"), just to name a few. I suggest you research Australian slang before starting this type of job.
Another important fact is that in the country of the kangaroos there are many measurements for beers that you will have to memorize if you wish to work in a bar or pub. Being aware of the difference of a middy (285 ml), a schooner (425 ml) and schmiddy (350 ml) could save you from a big confusion on your first working day.
I would like to point out something important here: if you want to work as a waitress/waiter or bar attendant you have to take the Responsible Service of Alcohol Course (RSA). Without this licence, you are not allowed to sell alcoholic drinks and if you do you might get into trouble with the law or get fined. You can take the course online but in my experience, it is easiest (and not-so-boring) to go in person and do it on an authorized institution.
Chef (BOH)
This job type offers one of the best salaries "for a backpacker job". Many places in Australia often require certified Chefs for restaurants and hotels. If you go to a remote area and you are not certified but you are a skilled cook you might also find a good offer in a kitchen and get to run it yourself. The outback is very isolated, that is why sometimes it is hard for restaurants or hotels to find cooks. Employers could even provide accommodation as an advantage for you to settle there.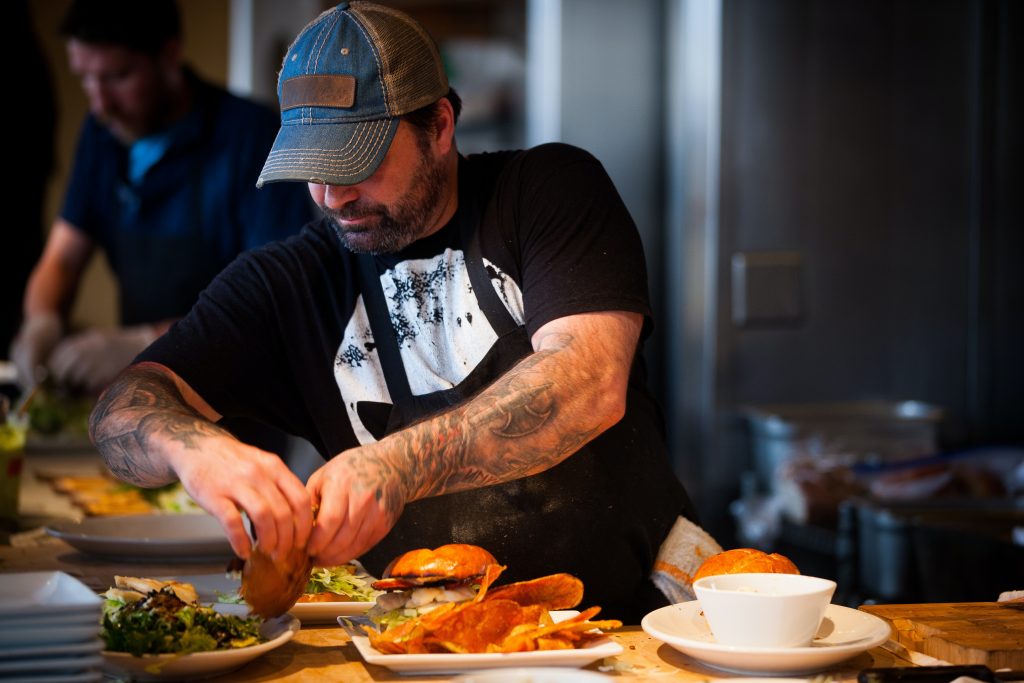 Hotel receptionist (FOH)
For this position not only you need a good English level, spoken and written, but also to be good at multitasking. The reason is that you will have to interact with customers face to face, attend to their needs and enquiries, answer the phone many times a day, prepare the reservations paperwork, answer emails, control the till, take payments, organize the rooms and work closely with the Housekeeping team. And here is the fun part: you often have to do all of that at the same time. Australian slang could be tricky on the phone but if you like challenges and want to improve your English, being a Hotel Receptionist is a great option. It is a great position if you like talking, meeting people all the time and listening to the amazing stories they have to tell. Personally, this is the job I enjoyed the most. You can read about my experience as a Hotel receptionist on this link.
In all the positions mentioned above, a certain level of English is required in order to interact with customers or, in case you are a Chef, to lead a kitchen team. You don't have to be bilingual but you should be able to keep a conversation. Don't worry if you are not on that level yet! It's just a matter of time and practice! If you are a beginner you can still work in Hospitality and find a job where you can learn and practice English without being face to face with customers or having the responsibility to lead a team. Here are some of them:
Food-runner (BOH)
As a waitress/waiter you are expected to take orders and serve your customers in a specific area of the restaurant but as a food- runner all you have to do is deliver food from the kitchen to the customer's table. This position is usually required on very busy days. As long as you are able to understand instructions and you have a basic level in English to communicate you can be a member of a restaurant team. Customers might ask you to bring water to their table, an extra fork or bread for example but as a food-runner you won't be taking orders, entertaining them or having any complex conversation with them.
Kitchen hand (BOH)
The kitchen-hands are the people who help the Chef. This job often starts in the morning or afternoon and involves chopping vegetables or meat, cooking some ingredients to have them ready for the evening, preparing the kitchen or the cutlery for the service or any other duty the Chef may need before the busy hour. It's a good place to learn food vocabulary and practice English avoiding the nerves that dealing with customers could carry.
Dishwasher (BOH)
As a dishwasher, you will be working in the kitchen area, close to the Chef and her/his team but also with waiters. It could be in a restaurant or a coffee-house for example. The waiters will bring the dishes once the customers finish their meal and your task will be to rinse them and put them in the dishwasher. Not much talking is involved besides a chat and a laugh with your co-workers, that is why you can do the job with a basic English level, practice a bit of conversation and learn kitchen vocabulary.
If you know someone who is planning to go to Australia and learn English from zero, an alternative for her/him is to work as a Delivery person. This is not particularly a Hospitality job but it is related to the foodservice industry and it could be a good option to start while learning the language. It is also a good way to get to know a city all around while doing some bike exercise and earning some money. You can find more information about Delivery and other job types to do without speaking English in this post.
To summarize, working in Hospitality is an interesting and fun experience to do on a Working Holiday or Student Visa scheme. Give it a try whether you speak English or you are learning! There are different kinds of jobs you can choose depending on your interest, your skills and what you would like to achieve through it. Back of House is always a good way to start if you don't feel confident enough with the language and you can go for Front of House after. Just prepare your CV, put a big smile on your face and go for it!